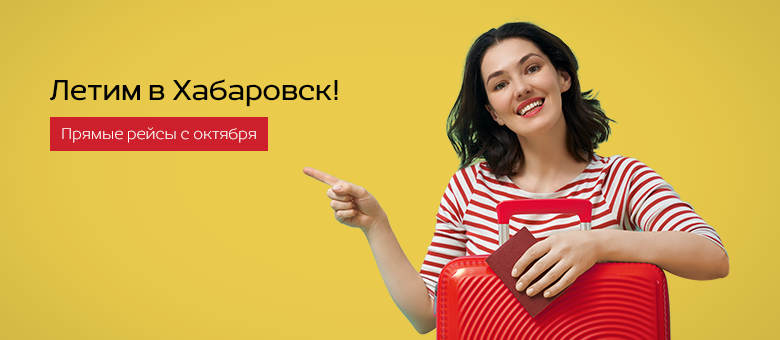 Russian Far East awaits its guests!
This autumn Nordwind's flight schedule will include direct long-range flights to Khabarovsk from the two capitals – Moscow and Saint Petersburg.
From October 1, there will be four "Moscow - Khabarovsk" flight per week, on Monday, Tuesday, Thursday and Sunday, and starting from October 27 – on Tuesday, Wednesday, Friday and Sunday.

The flight depart from Sheremetyevo at в 17:45 and arrive to Khabarovsk at 08:35 (local time for each airport)


From October 26 we invite our passengers to flights "Saint Petersburg - Khabarovsk". The flights shall be operated twice a week on Monday and Thursday.

The flight depart from Pulkovo at в 12:50 and arrive to Khabarovsk at 03:50 (local time for each airport)
There are business class tickets available for Khabarovsk flights.
For its transit passengers Nordwind offers convenient connection in Moscow (Sheremetyevo) from/to the following destinations:
Anapa
Sochi
Erevan
Krasnoyarsk

Krasnodar
Kazan
Saint Petersburg
Nizhnekamsk

Novosibirsk
Rostov-on-Don
Simferopol
Samarkand

Vladivostok
Istanbul
Novokuznetsk
Kemerovo
Current schedule and booking is available at our web-site https://nordwindairlines.ru/en/
Nordwind is one of the largest Russian airlines in terms of passenger turnover. Our worldwide network includes more than 200 destinations in both Russia and abroad. Scheduled flights from Moscow depart from Sheremetyevo International Airport.
The airline's fleet comprises 33 aircraft of the following types: Boeing 737, Boeing 777, Airbus A330 and Airbus A321.