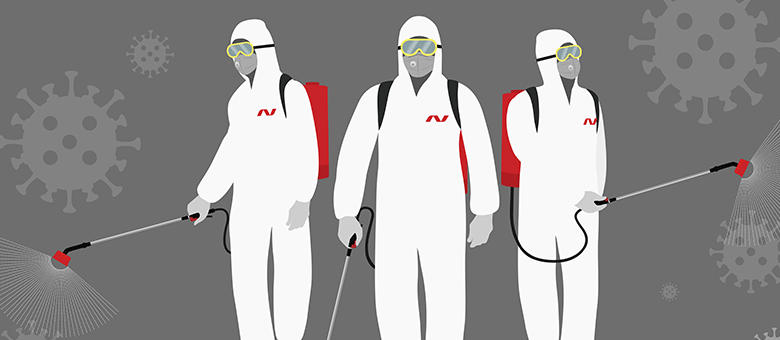 Safety measures at the airport and onboard
Nordwind Airlines takes and controls all measures necessary to ensure safety and health protection of our passengers. Our passengers may be sure that the airline strictly follows all sanitary requirements onboard.
At all airports of our flight network all passenger handling areas and equipment at the airport, i.e. check-in counters, baggage carousels and X-rays, payment terminals, etc., are regularly disinfected. All employees have sanitizers and wear masks and gloves at all times.
Prior to each flight all Nordwind aircraft are thoroughly cleaned and disinfected with antiviral substances of enhanced concentration with further airing of the cabin. When decontaminating the planes, we pay special attention to the frequently touched surfaces, like handles, switches, folding tables, overhead bins, lavatories.
The air in the cabin circulates through filters recommended by the aircraft manufacturers and conforming to all international standards. Thanks to the high purification efficiency, the air in the cabin is cleared of all contaminations, including viruses and bacteria, in accordance with the sanitary rules.
Prior to each flight the airline's crews undergo medical check. In flight the crew members wear masks and gloves, changing them in due time. All Nordwind crews received additional instructions in case a passenger feels unwell, that includes first aid to and isolation of such passenger.
We strongly recommend our passengers to follow the safety measures:
check-in online via the airline's web-site to avoid queues at the airport;
to the extent allowed by the infrastructure of the airport, maintain social distancing at all times, including when embarking and disembarking the plane;
follow enhanced personal hygiene rules, wash hand or sanitize them often;
when arriving at the airport each passenger should wear a mask and gloves and have the amount of spare masks and gloves as well as antibacterial tissues necessary to ensure sanitary safety up to the point of arrival (masks and gloves are to be changed every 3 hours);
at boarding control or when boarding the aircraft each passenger shall have his/her temperature measured with a non-contact thermometer (passengers with temperature exceeding 37 degrees Celsius are not allowed onboard);
sanitize gloved hands immediately prior to boarding ;
take off overclothes onboard and place it to overhead bins (overclothes shall be taken out only if allowed to by a flight attendant);
follow rules for use of individual protection devices, change masks every 3 hours (used masks, gloves and tissues should be given to flight attendants for further disposal);
keep seatbelts fastened at all times during flight, avoid moving around the cabin (except for going to lavatories), maintain social distance;
transport food and beverages (including baby food) only if it is in an intact sealed packaging.
We take all necessary measures to ensure your safe travel.