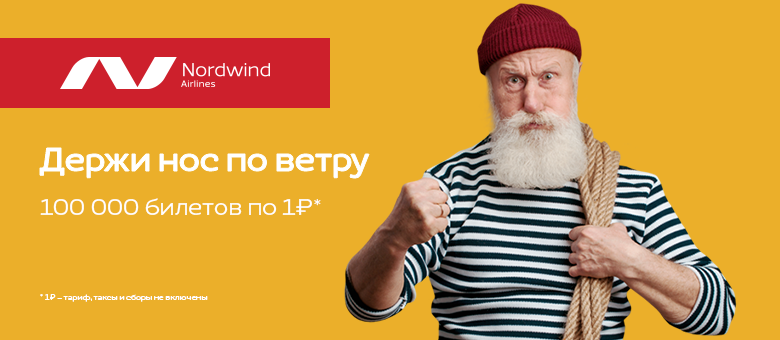 Nordwind plans sale of tickets for most of its winter schedule routes.
Nordwind Airlines announces an epic sale which starts on October, 02 and will last for 5 days.
First 100 000 tickets for its scheduled flights to cities in Russia and CIS countries will be offered for fares starting from 1 Ruble.
The special rates don't include taxes and charges and are valid for both direct flights and transit flights through Moscow. Thus, our passengers may travel from their home city to Saint Petersburgh, Sochi, Simferopol and any other city out of 55 cities of the airline's network route with convenient connection flights in Sheremetyevo airport at an affordable price.
Nordwind's modern fleet comprises 32 aircraft of the following types: Boeing 737, Boeing 777, Airbus A330 and Airbus A321. The up-to-date and well-balanced fleet consisting of the most popular aircraft models allows offering our passengers favourable ticket rates, regardless of the length of a flight.
The sale covers flights performed from October 27, 2019 till March 29, 2020. Tickets are already available at nordwindairlines.ru