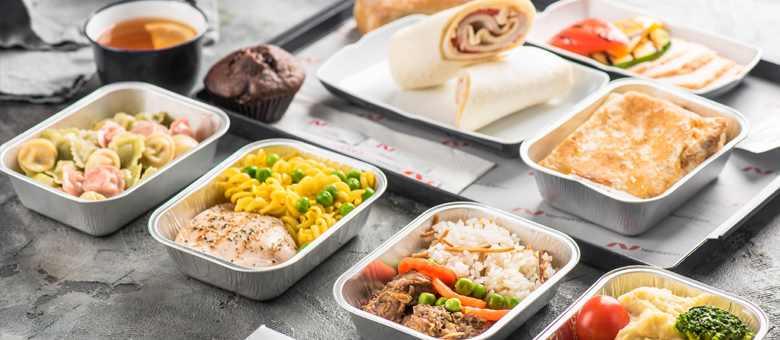 Enjoy new exquisite dishes in flight from April 16.
For the beginning of the summer season, Nordwind Airlines presents a new catering menu. Hot dishes of traditional Russian and European cuisine, including vegetarian and children's food, will deliver real gastronomic pleasure and not leave anyone indifferent.
Among the fresh new offers that will add flavor in flight – crispy ciabatta and chocolate orange muffin. Passengers have the opportunity to order a delicious light menu of pancakes, roll-sandwiches or omelet. A wide choice of various meal options – from bright children's ravioli to "Pene" pasta with fresh vegetables – will not leave young travelers and their parents indifferent.
Increased portion volumes will let enjoy the flight of any range with comfort. The updated menu will be available on all flights from Moscow and St. Petersburg from April 16, 2019. Guaranteed food is provided on Nordwind flights lasting more than 5 hours and 30 minutes; its assortment changes every 15 days.
Choose and order your favorite meals on the official website of our airline at least 11 hours before the departure time. Balanced nutrition on Nordwind board will make the flight more enjoyable and comfortable.