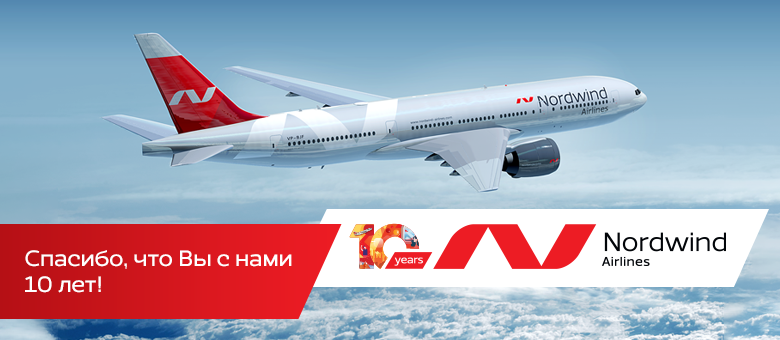 Today, on December 05, 2018, Nordwind Airlines celebrates its first anniversary and is proud to present the milestones of its history.
For 10 years we have serviced 50 million passengers. The airline's main priorities are safety, precision, quality and improvement of provided services and direct dialog with its passengers.
Starting with only six destinations, now total the number of Nordwind's route points reached 75 cities. Nordwind Airlines settled in TOP-7 Russian airlines and honorably represents Russia in different corners of the world.
Its modern fleet comprises 29 aircraft of the following types: Boeing 737, Boeing 777, Airbus A330 and Airbus A321. The up-to-date fleet allows offering the most comfortable flight to our passengers, regardless of the lengths of the flight. The company's fleet expansion plan stipulates its further growth up to 50 aircraft.
From 2015 maintenance of Nordwind's aircraft at 17 stations is performed by its own certified personnel "Nordwind Technic". Flawless technical condition of its fleet is a basis for high punctuality. According to the statistics of Sheremetyevo Airport, Nordwind takes third place in nomination "The most punctual Russian airline".
Nordwind demonstrates the growth rate that far exceeds the average for the Russian civil aviation thanks to the innovative service and continuous investments. Results of 2017 were the most impressive:
Leader on the fleet growth rate – 220%
Leader on the growth rate of the number of passengers among all Russian airlines – 198%
Leader on the growth rate of the number of passengers on its scheduled flights – 349%
The biggest direct scheduled flight network from Crimea to 25 cities of Russia
«Best Airline 2017» according to Skyway Service Award
The airline plans to end 2018 also as a leader on the growth rate of the number of passengers among all Russian airlines.

New aviation training centre "Nordwind Training" was opened in August 2018. It is equipped with modern simulators, which makes it an industry standard for emergency training for flight attendants in Russia. Nordwind's flight attendants took the 2nd place in Skyservice International Forum.

Today we would like to share the joy of celebration with our passengers and thank all those who helped us on that difficult path as well as those who enjoyed our product and perfect trip. Passengers of all today's Nordwind flights will be offered a special celebration menu with champagne and desserts.

The day's main event shall be the presentation of the new uniform for flight attendants to be held on the official night on December 05. And its highlight - «NORDWIND TOP 10» Award Winning Ceremony.
Thank you for being with us these 10 years!