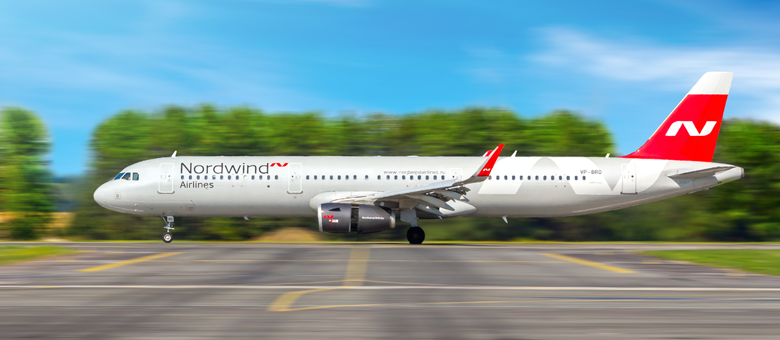 Another Аirbus А321 was accepted to Nordwind fleet. The 9th A321, designated for 220 economy class passengers, "put on" the company's brand livery and received its registration number - VP-BRO.
Аirbus А321 is one of the most popular models in its category. Tens of millions of passengers have already checked out its capacity and the comfort of the spacious cabin, while experts give high appraisal to the Airbus technical features and safety.
Nordwind Airlines prepared the aircraft to carry passengers with strict requirements to comfort. The cabin has been fully refurbished and equipped with new Acro Aircraft Seating passenger seats. The new A321 operated by Nordwind has modern and efficient V2500 engines produced by International Aero Engines. Experts admit the unparalleled efficiency and reliability of the engine thanks to its technologically advanced design.
An official aircraft meeting took place on the 23rd of August at the Sheremetyevo airport (Moscow). Airbus A321 VP-BRO aircraft will perform both domestic and international flights as a part of Nordwind's flight network. The airline plans to use the aircraft for its new flights to be operated under the winter schedule.
According to its development strategy, Nordwind's fleet will have consisted of 50 aircraft by the end of 2018.
"Now, Nordwind Airlines is continuously developing. We expand our flight network, open new destinations," - says the airline's commercial director Imran Nazarov. "We try to cover the most popular and interesting destinations as well as to increase the number of flights. It allows the airline to offer favourable ticket rates for both internal and international flights, thus, enhancing demand for air transportation."
Today Nordwind Airlines:
is in TOP-7 Russian airlines in terms of passenger turnover;
holds the 221st place in top-500 of Russian business leaders according to RosBusinessConsulting;
has a worldwide network including more than 200 destination;
performs 500 flights weekly;
operates 25 aircraft (the fleet shall be expanded to 50 aircraft by 2019);
transported 3.5 mln passengers with its scheduled flights in 2017 (that is 3.5 times more than in 2016).