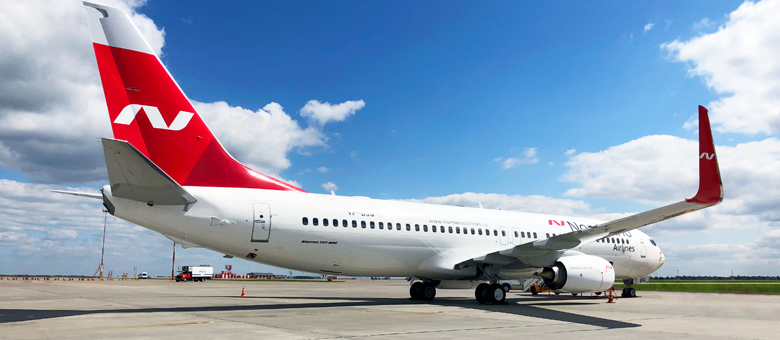 On the 30th of July one of the three new Boeing 737-800 Next Generation painted in the new airline's livery arrived to Sheremetyevo International Airport.
Nordwind continues to invest into the modernization of its fleet and widening the service range provided to its passengers
As part of the fleet expansion and modernization program, the company will receive two more brand new aircraft of the same type soon.
Equipped with 189 passenger seats, new B737-800 are intended to ensure higher on-time performance, superior flight safety and younger fleet.
Nordwind plans to operate the new machines for both domestic and international flights in order to expand its scheduled flight network. Today the new Boeing 737-800 performs its 1st flight on route Moscow - Krasnodar – Moscow.
For passengers to feel comfortable onboard:
The passenger seats are designed by B/E Aerospace, the one-class configuration provides for comfortable allocation of 189 passengers.
The newest addition to the passengers' comfort – the advanced interior model "Sky Interior" developed specifically for wide-bodied Boeing 777 family aircraft. The LED lighting helps to handle time zone changes, and the new design of moving overhead bins, never used in a narrow-bodied Boeing aircraft before, gives the passengers additional space.
Technical advantages of the aircraft:
Manufacturer's Serial Number 60177. The aircraft was manufactured in May 2018 and registered under the following number - VP-BSQ.
The airplane is equipped with efficient CFM International CFM56-7B26E engines, high-power carbon braking system as well as winglets of new type.
The stated features ensure less fuel consumption for transcontinental flights and, as a result, lower flight expenses.
Boeing 737 is the most popular jet passenger aircraft in the world. For now, there are 6 such aircraft in the company's fleet.
About Nordwind:
Nordwind Airlines is in TOP-7 Russian airlines in terms of passenger turnover. Its flight geography includes 200 destinations to Russian cities and foreign countries. The scheduled flights are performed from Sheremetyevo airport.
In 2017 Nordwind created the widest network of flights from Simferopol airport – 27 Russian cities now have direct scheduled air connection.
The number of passengers transported by scheduled flights for year 2017 is 3.5 times larger than in year 2016, i.e. more than 3.5 mln. passengers.
The airline's fleet comprises 22 aircraft of the following types: Boeing 737, Boeing 777, Airbus A330 and Airbus A321.
Nordwind is the winner of Skyway Service Award as "Best Airline" for international charter flights, silver medalist of Skyservice award, "The Best Charter Airline" according to the judges of "Wings of Russia" contest and the 221st place in top-500 of Russian business leaders according to RosBusinessConsulting.