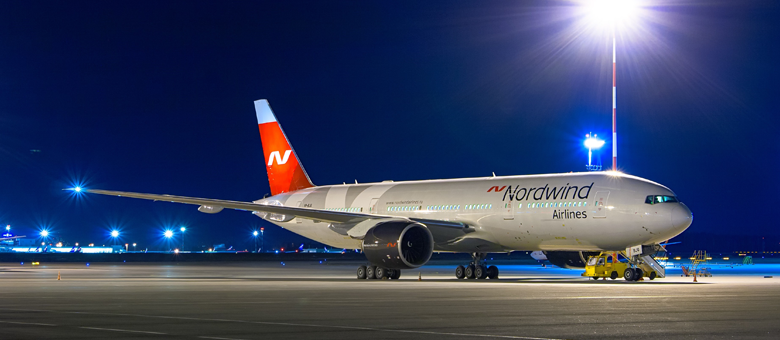 As a part of its fleet expansion program, Nordwind received its sixth wide-body Boeing 777 aircraft. The aircraft arrived to Sheremetyevo International Airport from Abu Dhabi, the capital of the United Arab Emirates. Previously, it was operated by Aero Mexico.
The aircraft is equipped with business-class cabin of 49 seats and is intended for comfortable travel of 277 passengers. The seats in the cabin are designed by B/E Aerospace and have an inflight entertainment system.
"We are glad to see the expansion of the aviation market in our country and trying to maintain the high-pace development of the company, providing passengers with not only high quality service, but also increasing the mobility of population by operating aircraft of high capacity. I'm sure passenger will like the spacious cabin and the biggest business-class area among our aircraft." – says Nordwind commercial director Imran Nazarov.
In 2018 Nordwind will continue to expand its fleet of wide-body aircraft to open new long-range destinations and increase the affordability of high-quality flights.
About Nordwind:
Nordwind Airlines is in TOP-10 Russian airlines in terms of passenger turnover. Its flight geography includes 200 destinations to Russian cities and foreign countries. The scheduled flights are performed from Sheremetyevo airport.
In 2017 Nordwind created the widest network of flights from Simferopol airport – 27 Russian cities now have direct scheduled air connection.
The number of passengers transported by scheduled flights for year 2017 is 3.5 times larger than in year 2016, i.e. more than 3.5 mln. passengers.
The airline's fleet comprises 22 aircraft of the following types: Boeing 737, Boeing 777, Airbus A330 and Airbus A321.
Nordwind is the winner of Skyway Service Award as "Best Airline" for international charter flights 2017, "The Best Charter Airline 2013" according to the judges of "Wings of Russia" contest and the 221st place in top-500 of Russian business leaders according to RosBusinessConsulting. International standards, renovated aircraft and much more – all for you to feel comfortable in flight.