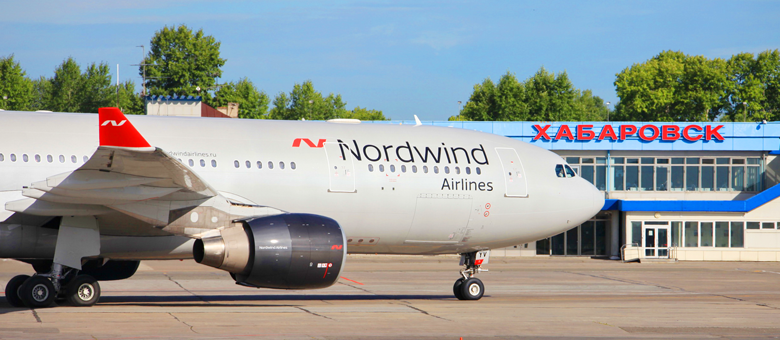 Press-release 26 July 2017
Nordwind Airlines Airbus 330 with business class cabin started regular flights Moscow – Khabarovsk
For the first time Nordwind Airlines started regular flights from Moscow to Khabarovsk on a wide-body Airbus A330 equipped with a business class cabin. Aircraft transported 247 passengers to Khabarovsk and came back to Moscow on 27 July.
Aircraft's feature is business class cabin for 24 seats, produced by Weber Aircraft Company, the best in ergonomic aircraft solutions company.
EElegant interior gives sense of cozy and open space. Seats are technically perfect and let passengers to enjoy their travel even on long term flights.
Passengers of the first flight noticed business class cabin advantages, such as spacious cabin and increased distance between chairs in A330 aircraft of Nordwind Airlines.
Aircraft can comfortably transport 279 passengers and is great for long term flights. At the same time maximum capacity of the aircraft is 380 seats.
Chairs in the economy class were projected by Zodiac Seats France and equipped with a personal entertainment system, which allows you to track the position of the aircraft on its itinerary.
New comfortable aircrafts Airbus 330 in Nordwind Airlines allow developing transport routes and helps to realize federal program of social and economical development of Far East.
The Nordwind airline plans to increase the number of wide-body aircrafts to open new long flight destinations.
About Nordwind Airlines:
Nordwind Airlines is one of the 10 biggest Russian Federation airliness in passenger turnover. Route network of the company includes more than 85 destinations of flights in Russia and foreign countries. Regular flights are held from Sheremetyevo Airport.
Nordwind Airlines has the biggest route network of flights from the airport "Simferopol" - 25 Russia cities have direct regular air traffic.
Passengers' amount on regular flights increased 30 times from 2016 to 2017.
Aircraft fleet includes 20 vechicles such us: Boeing-737, Boeing-777, Airbus-330 and Airbus-321.
Nordwind Airlines got the "The Best Chartered Carrier of 2013" by the jury of "Wings of Russia" contest and 221st place among the TOP 500 leaders of Russian business according to RBC.
Our company works in international standards and with new aircrafts to provide maximum comfort during your flight.