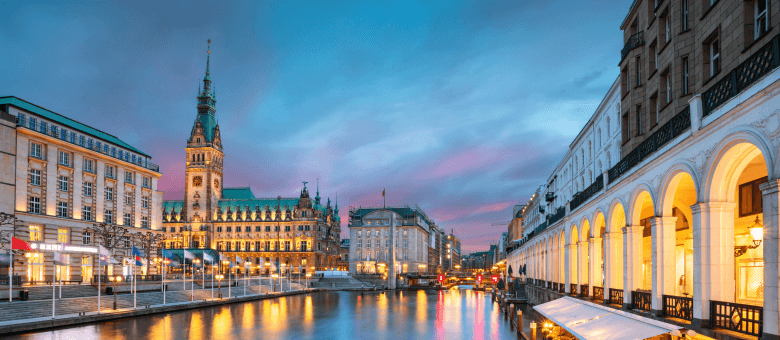 Starting from March 1, Nordwind begins operating direct charter flights to Hamburg. FlightsMoscow ↔ Hamburg will be performed once a week, on Monday.
Departure from Moscow is at 12:45 (Moscow time). Arrival is at 13:50 (local time).
Return flight departs at 15:15 (local time) and arrives at 20:00 (Moscow time).
Flight time: 3 h 5 min.
The flight will be performed with a comfortable Boeing 737-800 aircraft.
Regional passengers are offered transit flights from Orsk, Orenburg, Yekaterinburg and Krasnoyarsk with a convenient connection in the capital.
Current information and bookings are available at our website and through our official agents. The frequency of flights may change when international air traffic will be restored.
When planning your trip, you should carefully read the information about the current visa rules and restrictions related to entering the country of destination.
Passengers are accepted on flights to Germany in accordance with the restrictions on entry into the country effective on the date of the flight. You may get the information about the rules and imposed temporary restrictions at:
https://www.auswaertiges-amt.de/de/ReiseUndSicherheit/covid-19/2296762
www.bundesgesundheitsministerium.de
https://www.rki.de/covid-19-risikogebiete
From November 8, 2020 passengers arriving to Germany from countries with a high risk of COVID-19 infection, including the Russian Federation (https://www.rki.de/covid-19-risikogebiete) have to self-isolate for 10 days upon entry into the country. COVID-19 testing is required no earlier than on the 5th day after arrival to Germany. If the results are negative, the self-isolation is unnecessary.
Passengers entering the country in Munich may undergo the testing at the airport. For more detailed information go to https://www.munich-airport.com/corona-tests-at-the-airport-9526455
In addition, it's necessary to inform German health authorities and register your entry digitally instead of a hardcopy questionnaire. Passengers have to fill-in an online form at: www.einreiseanmeldung.de
Once the form is filled-in, the passenger will receive a confirmation «Digitale Einereiseanmeldung», which must be shown at check-in. Personal data will be checked during the passport control by the German Federal Police. If due to technical reasons you have no opportunity to undergo the online registration, you may fill-in a hardcopy form "Ersatzmitteilung" (Alternate application) which must be shown at check-in (https://www.auswaertiges-amt.de/blob/2415562/fe9b3284e948aa1f87ae1a7a65dae779/ersatzmitteilung-einreise---ru-data.pdf). Relevant health authority of the federal state will monitor compliance with the quarantine rules.
In accordance with the German Federal Law On Protection against Infectious Diseases, those who will violate the quarantine will be fined up to 25,000 euros.
Some categories of citizens are exempt from the obligation to fill-in an online registration form. These include: persons who arrived from a country with a high risk of COVID-19 infection, but traveled through it only in transit without stopping, as well as persons who travel through Germany only for transit purposes.
We recommend you to review the requirements of the Russian Agency for Health and Consumer Rights (Rospotrebnadzor) related to Russian citizens arriving to the Russian Federation by air at the following link