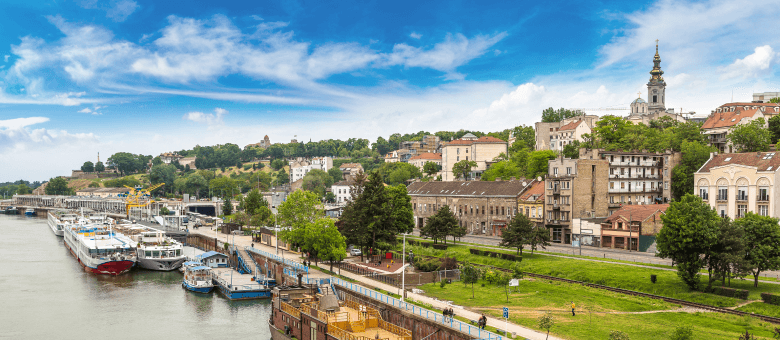 From the 24th of January, Nordwind starts direct chartered flights to Serbia. Flights Moscow - Belgrade - Moscow will be available once a week on Sundays.
Departure from Moscow is at 09:30 AM (Moscow Time). Arrival is at 10:35 AM (local time).
Return flight departs at 10:35 AM (local time). Arrival is at 16:35 PM (Moscow Time).
Comfortable Boeing 737-800 aircraft are planned to be used for the flights. Flight time is 3 hours.
Current information and booking are available at our website and from our official agents. The frequency of flights may change when international air traffic will be restored.
When planning your trip, you should carefully read the information about the current visa rules and restrictions related to entering the country of destination.
Foreign citizens are allowed to enter the country in accordance with the Intergovernmental Treaties. Serbia provides non-visa entry for Russian citizens.
Starting from December 20, 2020 all foreign citizens arriving to Servia must have a medical certificate confirming negative RT-PCR test for COVID-19 issued by a certified medical institution in the country of departure no more than 48 hours prior to crossing the Serbian border. If the validity term of a PCR test is expired due to reasonable causes regarding long flight time or delay, the term may be extended to 72 hours prior to the arrival.
Exceptions: citizens and residents of Serbia; children under 12 years old provided the accompanying person has a PCR test; transit passengers with transit time under 12 hours; accredited and appointed employees of diplomatic missions, consular offices, international organization and their representative offices along with their family members and other categories. Official link to the document (in Serbian): http://www.pravno-informacioni-sistem.rs/SlGlasnikPortal/eli/rep/sgrs/vlada/uredba/2020/151/1/reg
If a passenger has no medical certificate confirming negative RT-PCR test, the carrier has the right to deny boarding of such passenger.
When planning your trip, please, review the current requirements on IATA official website (the information is provided in English): https://www.iatatravelcentre.com/world.php
We recommend you to review the requirements of the Russian Agency for Health and Consumer Rights (Rospotrebnadzor) related to Russian citizens arriving to the Russian Federation by air at the following link