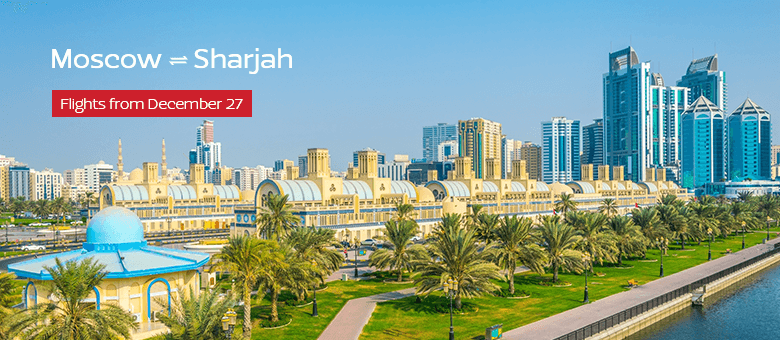 From 27 December, Nordwind starts direct chartered flights to Sharjah (United Arab Emirates). Flights Moscow - Sharjah - Moscow will be available once a week on Saturdays.
Departure from Moscow is at 09:30 AM (Moscow Time). Arrival is at 03:50 PM (local time).
Departure from Sharjah is at 05:05 PM (local time). Arrival is at 09:35 PM (Moscow Time)
Flight time is 5 hours 20 minutes.
Comfortable Boeing 737-800 aircraft are planned to be used for the flights.
Regional passengers are offered transit flights from Chelyabinsk, Magnitogorsk, Yekaterinburg, Ufa and Perm and with a convenient connection in the capital.
Current information and booking are available at our website and from our approved agents. The frequency of flights may change when international air traffic will be restored.
All passengers flying to Sharjah must comply with recommendations and restrictions on departures from the Russian Federation.
Passengers departing to UAE from Russia must present the following at check-in at the departure airport (the Russian Federation):
The printed certificate with negative PCR test for COVID-19 done no later than 96 hours before departure at the accredited medical institution

The test result shall be accepted only in hard copy in English or Arabic. No certificates in Russian, in electronic form or completed manually are allowed.

Children under 12 years old and passengers with reduced mobility (PRM) are exempted from the test requirement.


The medical insurance for the entire stay at the UAE covering COVID-19 treatment and expenses on isolation in an observation facility in case of positive COVID-19 test.
Upon arrival to UAE airports it's necessary to:
Undergo COVID-19 retesting for all passengers other than PRMs and children under 12 years old. One must stay at the hotel or at the place of temporary residence until receipt of the results.
Information on Permits to Enter the UAE

All arriving passengers who are residents of the UAE must make sure they have been granted entry permits.

Abu-Dhabi accepts only residents and foreigners with permits to stay (resident visas).

Passengers with resident visas issued by Dubai authorities must receive entry/ re-entry permits to before planning their return. It can be done here

Passengers with resident visas issued by other emirates (other than Dubai) may receive entry permits from federal authorities

Passengers in transit through Sharjah must comply with requirements of their final destinations.

Before traveling, we recommend carefully reviewing all features of entering the United Arabic Emirates
We recommend you to review the requirements of the Russian Agency for Health and Consumer Rights (Rospotrebnadzor) related to Russian citizens arriving to the Russian Federation by air at the following link
Nordwind is one of the largest airlines in Russia in terms of passenger turnover and has one of the most developed route networks of scheduled flights. The base airport of the airline is Sheremetyevo International Airport. With flexible fares, convenient flight schedule and loyalty program, a flight with Nordwind will be a successful start of a journey for both business travelers and those who are looking to enjoy a planned vacation.