Corporate Style
General Rules of Use
We thank you for your interest in using LLC «NORD WIND» brand. We have established rules of using Nordwind trademarks in order to protect its value. By using Nordwind brand, you agree to comply with the below stated rules.
Do not modify Nordwind trademark and logo, provided to you, including its colours, angle, size and positions of its elements.
Ensure that Nordwind trademark and logo stand out against the surrounding text and is legible.
Do not change the word «Nordwind» and its format. Do not add any text to «Nordwind Airlines» and do not abbreviate it.
Do not use any sounds along with Nordwind trademark and logo.
Modifying Nordwind trademark and logo is prohibited.
Use of trademark
Our trademark is the main brand element. There are 4 version of it (A, B, C, D), the basic one is A.
The logos are available in the following formats:
vector (SVG) for publishing in advertising materials
images (JPG, PNG) for digital screens
Version А (the basic one)
Version B
Version C
Version D
Download all as a zip-file (zip, 1 Mb)
Prohibited use
Do not use Nordwind brand materials and its variations in your own product elements and names, names of services, trademarks, logos, company names, domain names and social media accounts.
Do not use any trademarks, logos and other elements similar to Nordwind's, and do not offer any goods or services under names which can be confused with our goods or services.
Do not copy Nordwind brand style and do not imitate it, do not use design similar to the unique visual elements of Nordwind brand or web-site www.nordwindairlines.ru.
Do not use Nordwind brand in relation to any products, services or web-sites, which may be considered as pornographic, vulgar, defiling or offensive; obscene, demeaning, false, discrediting or otherwise illegal; inciting religious, racial or other hatred or violating current law or otherwise inacceptable from our point of view.
The use of Nordwind brand must not express or imply any partnership, connection, sponsorship, support, certification or approval from our part.
All references to Nordwind must be true, accurate and impartial, must not be confusing or speculative from our point of view.
Do not use Nordwind trademarks as key words and search criteria in advertisements.
Examples of improper use of the trademark: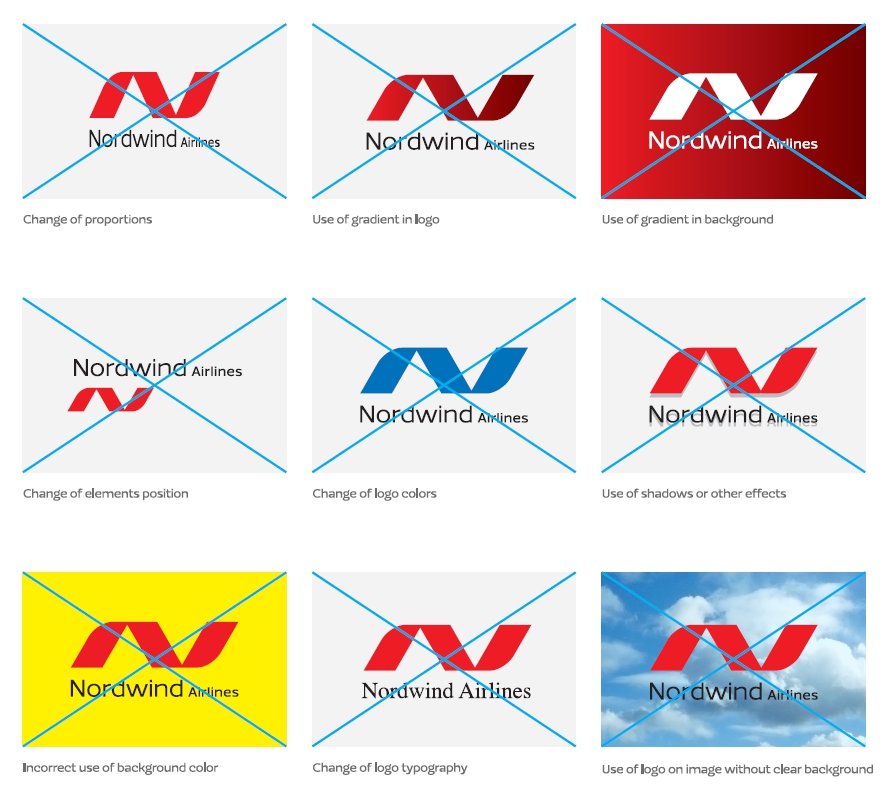 Photos
Download all as a zip-file (25 Mb)